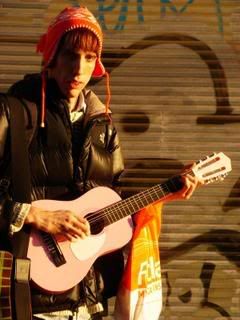 Last night I went to see Deerhunter in Brisbane at The Zoo. I had no real expectations for the show as I've never really understood all the hype that they get, but I was pretty much blown away by the show. I would definitely consider myself a fan of the band at this point and I think they deserve all of the praise they're getting.
This recording is an ambient set that Deerhunter's frontman Bradford Cox played for dublab and it's really pretty. Goes for about half an hour and was the first thing from the group that I really got into.
I'm also posting a video of a full festival set that they played earlier this year. Should give you an idea of how great they are live. Seriously, one of the best shows I've been to all year.
By contrast, I saw Flipper earlier in the week and I was expecting great things given their reputation. It was one of the worst and certainly the most disappointing show I've ever been to. They put absolutely no effort into the performance and I know that they're supposed to sound sloppy but having audience members/members of terrible support bands sing 50% of the songs for you is just lame and lazy. That's not the same thing as having half the crowd on stage singing with you...that actually would have been pretty cool. Also, I dunno, continuing to sing nasty, nihilistic songs and getting trashed on stage when you're well into your 50s (I'm guessing?) seems kinda pathetic to me. I mean, most people seem to grow out of that kind of thing at some point. I still cringe at the thought that I paid $35 for it.
Download - Bradford Cox on Dublab
Watch - Deerhunter @ Noise Pop Festival